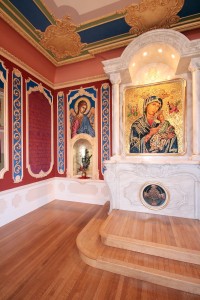 All programs are held at the House of Prayer, unless otherwise specified. Please call 724-438-7149 to register.
CANDLELIGHT DINNER FOR MARRIED COUPLES
Thursday, April 26, 2018, 6:30 p.m.—9:00 p.m.
Offering:  $70. per couple
Registration Due:  April 20.
Experience a lovely evening of music, dining, a silent auction and a heartwarming      presentation in the atmosphere of a former 1903 Coal Baron' s home.
SPIRITUAL REFLECTION
Becky Johnen
"WORKING TOWARD A CALMER YOU"
Saturday, April 28, 2018, 10:00 a.m.—1:00 p.m.   Includes Lunch
Offering:  $35.  Registration Due:  April 24
Managing stress is all about taking charge: of your thoughts, emotions, schedule and the way you deal with problems.
This presentation is designed to help you spot stressors and stay in control when the     pressure builds by helping you understand what stress is, how to recognize when you are in "stress overload" mode, and how to unwind, relax and become a calmer you.
YOUNG ADULT RETREAT
Sr. Barbara Jean & Young Adult Team
June 22-24, 2017, 7:00 pm Friday—11:00 am Sunday
Offering:  $110.
Registration Due:  June 15
Gather with other young adults seeking God's way along life's journey.