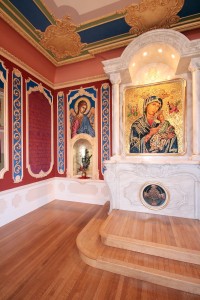 All programs are held at the House of Prayer unless otherwise specified. Please call 724-438-7149 to register.
Bread Baking Retreat – This program is FULL
Sr. Carol Petrasovich, OSBM
Sat., March 16, 2019 (Registration due: Mar. 11)
10:00 a.m.-1:30 p.m.  Lunch Included
Offering: $20
It's back, Sr. Carol's much requested  Bread Baking Retreat!
Enjoy making a loaf of Lenten bread in a creative, relaxing and prayerful atmosphere.
Limited to 8 participants.
Spring Spiritual Reading Series
Sr. Barbara Jean Mihalchick, OSBM
" SACRED THRESHOLD:
Crossing The Inner Barrier To A Deeper Love"
(By Paula D'Arcy)
March 18, 25, April 1, 8,  2019 (Registration due: March 11)
Mondays,  10:00 – 11:30 a.m.  
Free Will Offering
Lenten Prayer Morning
Rev. Don Bolls
"THE PASSION AS TOLD BY JOHN THE BELOVED"
Saturday, March 23, 2019 (Registration due: March 19)
9:15 a.m. – 1:00 p.m.  Includes Lunch
Offering: $35 
The Sacrament of Reconciliation will be offered along with a conference and prayer service.
A LENTEN DAY OF PRAYER FOR HEALING
Presenter: Rev. Joseph M. Freedy, Diocese of Pittsburgh
Sat., Mar. 30, 9:15 a.m. – 2:00 p.m. (Registration due: March 22)
Offering: $35 (Includes Lunch)
The Program consists of Conferences, Mass, Adoration of the Blessed Sacrament and Prayers for Healing.
CANDLELIGHT DINNER FOR MARRIED COUPLES
Thurs., May 2, 2019 (Registration due: April 26)
6:30 p.m. – 9:00 p.m.
Offering:  $70 per couple
Experience a lovely evening of music, dining, a basket auction and a heartwarming      presentation in the atmosphere of a former 1903 Coal Baron's home.
HOUSE TOURS
Provided by Laurel Highlands High School History Students
Sun., May 19, 2019
1:00 – 3:00 p.m.
Offering: Adults $12.  Children $6.
Tour the former mansion of J. V. Thompson and learn the history of one of the leading and wealthiest coal barons of his day.
Young Adult Retreat
Sr. Barbara Jean & Young Adult Team      
June 21-23, 2019 (Registration due: June 14)
7:00 p.m. Friday – 11:00 a.m. Sunday
Offering:  $110
Gather with other young adults seeking God's way along life's journey.
Open to Christian men and women ages 18-35 years.